With Bouwens Funerals, you can make the right arrangements for your own funeral in advance. It is important to include all your wishes and not to leave surviving relatives with problems that could have been avoided.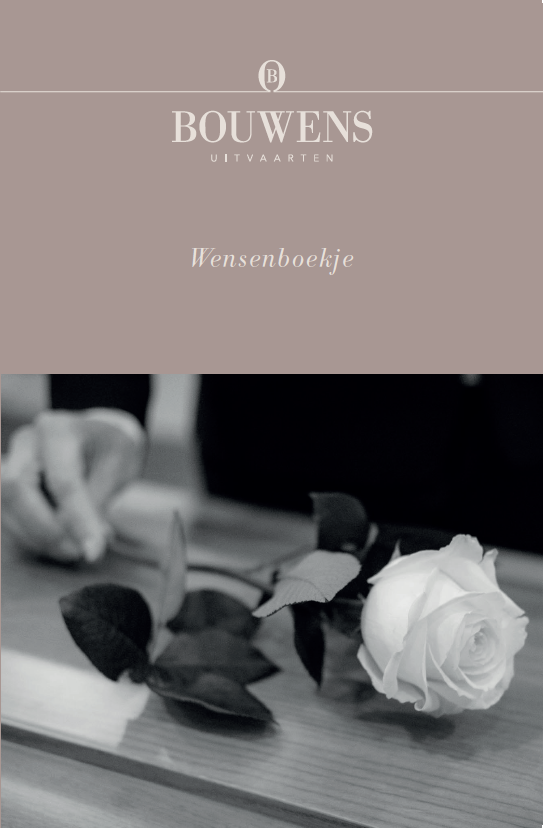 With our wish booklet, you can express your wishes for your own farewell. The booklet is intended as a source of inspiration to help you make the right decisions.
You may choose to discuss the booklet with someone or keep it with your papers for future reference. This booklet can be the basis for drawing up a Will in the event of death. The wishes are then officially recorded during a meeting with a funeral director.
You can contact us and/or request a wish booket using the form at the bottom of this page or via our contact page. Of course, you can also give us a call.
In addition, it is very important for the financial side to be properly considered and arranged. After all, it is unfortunate if relatives are unable to comply with certain wishes, because the wishes are not known and no proper financial provisions have been made. Please feel free to contact us for more information.
BOUWENS FUNERAL HOME DEPOSIT FUND
At Bouwens, you can discuss your wishes for your future funeral and have them recorded in a Will, but you can also take financial measures by making a deposit in the Bouwens Funeral Home Deposit Fund. Interest is credited annually on the amount deposited.
REGISTER OF BOUWENS FUNERAL HOME
There is also the option of registering in the register of Bouwens Funeral Home. By doing so, the registered person indicates that his or her funeral may be arranged by Bouwens Funeral Home.